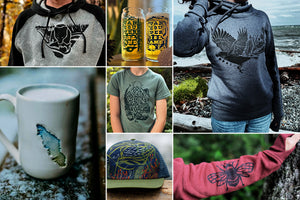 Welcome to Our Online Abode!
The Bough & Antler brand was established in 2016, launching with a line of clothing that promoted the best of the Northwest: Its breathtaking scenery, inspiring flora and fauna, amazing outdoor opportunities, and invigorating lifestyle. Since then we have branched into other product offerings that accentuate the best of west coast living.
In 2020, B&A further broadened our horizons by opening a brick-and-mortar retail location, partnering with our friend and artisan Cheryl of Pottery for Peace. Behind the storefront are our studio operations, encompassing screenprinting and pottery-making.
In addition to B&A goods and PfP wares, our store carries a wide array of giftable products by other talented makers from our locale and across the Northwest. We are stocked with thoughtfully-selected products in categories including home decor, jewellery, bath & body, books, cards & stationery, outdoor pursuits, as well as a dynamic kids' collection.
We have been voted best gift store in Campbell River two years running, and hope you will agree with the locals' choice!  Whether you visit us in-person or on the web: We extend our warm greetings and thank you for browsing!